Katie Catlender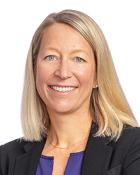 Executive Vice President, Chief Customer Officer
As our first Chief Customer Officer, Katie will drive a bank-wide customer strategy and lead several key teams to develop best-in-class digital capabilities, maximize the Bank's marketing strategy and approach, and create an action oriented and predictive data analytics and insights strategy.  This role is highly collaborative and drives impact across the organization through partnership and by defining the key impact disciplines that support deepening customer relationships and delivering business value through experience best practices.   
Prior to joining Cambridge Savings Bank in 2020, Katie spent 25 years in executive leadership roles at Blue Cross Blue Shield, Neighborhood Health Plan and Harvard Pilgrim Healthcare driving strategy to execution, diversifying business lines, leading operations, sales, product, customer service, and customer experience. 
Katie has served as a formal mentor and champion for up and coming female leaders for the last decade.  In addition, she has served as an executive sponsor of a young professionals network, and is passionate about giving back in her community. 
Katie earned her bachelor's degree in Health Management and Policy from the University of New Hampshire and holds several leadership designations, including Women Unlimited LEAD, Boston College Executive Leadership for Change, Boston Chamber Leadership Development Program, and the AHIP Executive Leadership Program Fellow designation.