Wayne Patenaude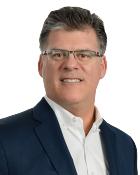 President & CEO
Two life-long passions of our President and CEO? Banking and baseball. Wayne received his Bachelor of Science degree from the University of Connecticut, where he also played baseball for four years. After graduating, he began his career in Connecticut serving the financial needs of customers at Glastonbury Bank & Trust, Fleet Financial Group and American Savings Bank and in Massachusetts, at Berkshire Bank before joining Cambridge Savings Bank.
In 2007, Wayne joined Cambridge Savings Bank as Executive Vice President, Chief Financial Officer & Treasurer. Five years later, he was appointed to his current position of President & Chief Executive Officer.
This Glastonbury Connecticut native now resides in Concord, MA with his wife and two children. In his free time, Wayne is an avid sports fan who is passionate about giving back. He is a board member of the Cambridge Chamber of Commerce as well as the Concord Carlisle Community Chest, an independent organization that raises funds and provides donations to vital human services organizations that assist Concord and Carlisle residents. He is also a past President of the Concord Carlisle Youth Travel Basketball Program.