In a Market Downturn Think and Act for the Long Term
*Articles and content provided by SigFig Wealth Management, LLC.1
Worldwide, stocks have fallen significantly and volatility has increased in the early weeks of 2016.
The hardest part about being a disciplined investor is maintaining a patient, thoughtful approach in the face of market headwinds. It's tempting to sell your portfolio and wait out the storm, at least until things seem to have settled down.
Some investors hit the panic button, liquidate everything, and wait. When people make investment decisions based on fear, however, they abandon the smart, calm approach that should guide their rational long-term planning.
This is a good chance to consider the opportunities available to long-term investors. Modern portfolio theory suggests that the smart, long-term approach is to stay the course.
Though the S&P 500 has had a correction of approximately 10% in the last month and international markets are off 10% to 20%, diversified portfolios with stocks and bonds have been less impacted than concentrated portfolios. This presents excellent opportunities to invest (and reinvest) in a globally diversified portfolio.
Though it's natural to want to pull out when the market gets volatile, it is impossible to know where the bottom is. Frequently, market timers withdraw at the bottom, already absorbing all of the losses. Other times, they attempt to buy back in at what they think is the bottom, only to see the market fall further — what is known as "catching a falling knife." Then, once the fear factor has been initiated, it is hard to anticipate the market's upswing, building the courage to reinvest while getting the re-entry timing correct. In fact, research shows that market timing generally underperforms a buy-and-hold, disciplined approach. Simply riding the swings, even the volatile ones, outperforms active investing and market timing.
As an example, the chart below shows the S&P 500 over the one-month period from July to August 2011. The S&P 500 fell almost 15% in the month. The market had been on a tear through mid July, up 50% from its 2009 lows.

If you jumped out of the boat in August 2011, nervous that stocks were overvalued, you'd have missed a big chunk of a great market rally. Over the next three years, the market was up 66%.
The research says stay the course. Don't try to time the market. Invest in a diversified portfolio, reconfirm your risk tolerance, and harvest available tax losses.
Don't try to time the market. Attempts to time the market, by jumping out at initial signs of market tops, or jumping in at signs of market bottoms, underperform a disciplined, buy-and-hold, stay-the-course approach. Most finance research indicates it is nearly impossible to figure out where the market is going (minutes, days, weeks, months, or years from now). It is impossible to know if the markets will move higher in the coming days or continue with volatility. Even the so-called experts do not beat the market reliably. Still, markets historically reward smart, disciplined risk-taking over the long-term: investors take on risk by investing in companies and are rewarded with capital gains and dividends.
We strongly advocate setting up regular, recurring deposits. These serve several purposes. First, they build your account value, getting more of your assets to work for you. Second, deposits enable a simple rebalancing of your portfolio to pick up small relative under-valuations between asset classes. Finally, they enable you to invest when the market has experienced a larger decline. These factors combine to lower your portfolio volatility and your overall risk.
Confirm your risk tolerance.If you're watching the market downturn nervously, it's a signal to rethink your risk exposure. Visit our Managed Accounts page to retake your questionnaire and see if your portfolio's risk level matches your current comfort with market volatility. Your portfolio should be aggressive enough to achieve the long-term returns you want, while still enabling you to be comfortable living through short-term market pullbacks.
Harvest tax losses. Our investment team carefully reviews market conditions for opportunities to reduce your taxes. We automatically look for conditions to lock in a lower cost-basis and capture tax losses for our clients, who can use that loss to offset other gains (and even income) to reduce their taxes. We purchase a similar asset class ETFs so our clients remain fully invested for a market rebound. If you want to learn more about Tax Loss Harvesting, visit our FAQ.
Title: Revisiting Stock Popularity Across States
Revisiting Stock Popularity Across States
What is the most widely owned stock across states? If you guessed Apple, you would be right. In that last survey, we simply ranked each stock by the number of owners in each state.
This time, we wished to understand the relative likelihood of ownership. Compared to the a stock's ownership nationwide, do investors in a specific state own a particular stock at a higher or lower rate?
Doing so can reveal interesting patterns, e.g.:
Massachusetts stockholders are 4X more likely to own Dunkin Donuts than those across the country. Nationwide, 0.5% of investors own DNKN. In Massachusetts, 2% own Dunkin stock.
Yelp bubbles up as the most popular stock in California. Although many popular stocks such as TSLA, GOOGL, FB, AAPL, and LNKD are headquartered in the Golden state, they're also widely owned by investors across the country. Hence, they don't come up to the top in CA.
Using this metric, we map the top stock in each state.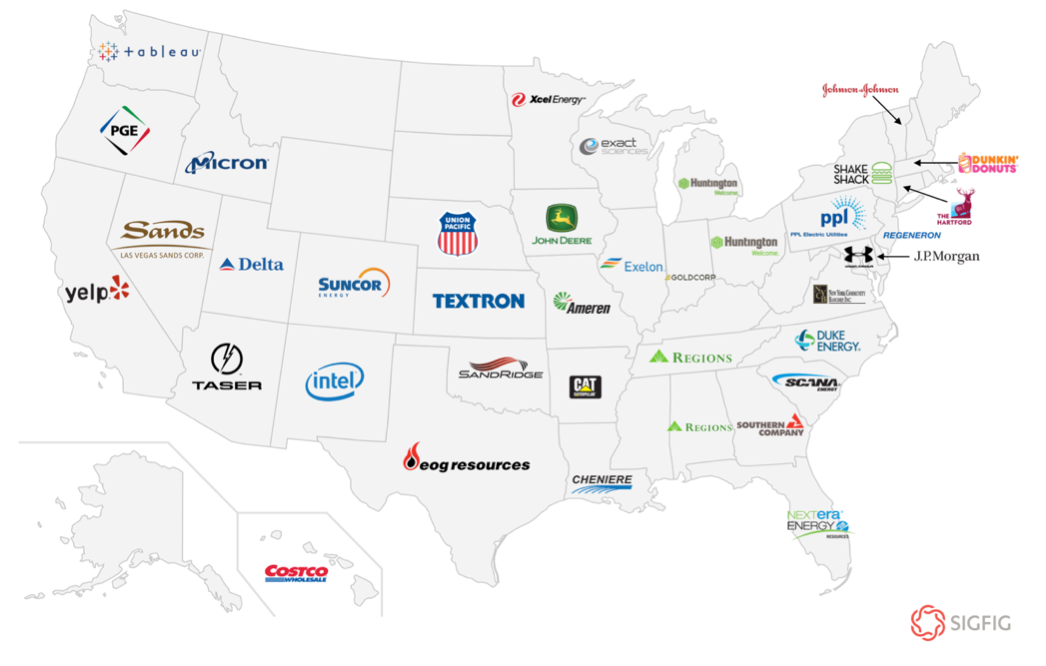 Indexing ownership to the national average can tell us about home bias. Many of the favorite stocks are headquartered in the respective state: ShakeShack in NY, Under Armour in MD, Las Vegas Sands in NV, Dunkin Donuts in MA, Baker Hughes in TX, Yelp in CA, Tableau in WA, etc. Here is the same map, filtered only to headquarter states.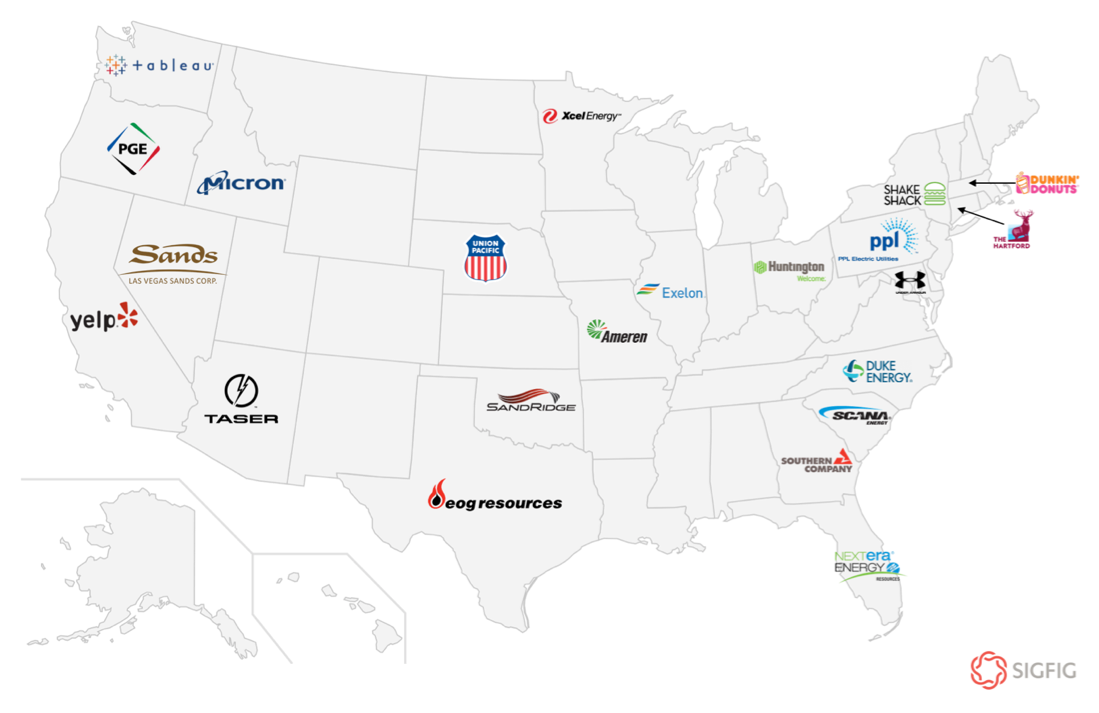 Note: in our analysis, each stock is owned by at least 100 investors in our data.
1Investment products and services are offered independently through SigFig Wealth Management, LLC, an SEC registered investment advisor. Investment accounts are custodied at brokerages that are members of FINRA/SIPC. SigFig and Cambridge Savings Bank are not affiliated. Products and services made available through SigFig are not insured by the FDIC or any other agency of the United States and are not deposits or obligations of nor guaranteed or insured by any bank or bank affiliate. These products are subject to investment risk, including the possible loss of the principal amount invested.
SigFig Wealth Management, LLC investment recommendations rely on historical data. Historical performance is not a guarantee of future returns. 
SigFig Wealth Management, LLC is an SEC registered investment advisor. © 2017 SigFig Wealth Management. All Rights Reserved.