Reduce Costs – Automated Investment Advisors Reduce Cost of Investing
*Articles and content provided by SigFig Wealth Management, LLC.1 
If you have recently researched investment management services, chances are that you have come across the term "robo-advisor."
Who are these robo-advisors and can you trust them with your financial future?
A robo-advisor is an online investment platform that uses algorithms to determine asset allocations for investors and manages their investment dollars with minimal human intervention. Because it utilizes technology rather than active management by a human, robo-advisors charge significantly lower fees than what most financial advisors typically charge.
"It's a fast growing business today, with something close to $20 billion in assets under management," says David Larrabee, director at CFA Institute, the association of investment professionals. "Robo-advisors are here to stay and have demonstrated there is demand."
According to recent research by A.T. Kearney, approximately $2 trillion will flow into robo-advisor platforms over the next five years.
Why Robo-Advisors
What is driving the explosive growth in the robo-advisor marketplace? Experts point to the demographics, account sizes, and low costs as the main factors.
Demographics: Investors of all ages are using robo-advisors, but not surprisingly, they are especially popular among millennials and Generation Xers who grew up with technology and would feel just as comfortable firing off an email or texting as they do talking to a human being.
Lower account minimums: Furthermore, most wealth management firms require investors to have a minimum of $100,000 or more in investable assets. Robo-advisors have investment minimums in the low four-digit numbers; some have none. "The traditional investment advisory accounts' minimum of $100,000 puts these advisors out of reach for a lot of investors," says Larrabee. "Robo-advisors are stepping up to fill that void."
Lower fees: Last but not least, robo-advisors are inexpensive. While traditional wealth management services charge 1% of assets under management or more, the typical fee charged by a robo-advisor is 25 basis points or lower, depending on account size.
How Robo-Advisors Work
With a robo-advisor, clients open an account and typically start by answering a series of questions about their age, tolerance for risk, and investment goals. The platform provides an asset allocation based on their answers. An older investor nearing retirement, for example, will be recommended a more conservative asset allocation than a younger investor who will be working for decades to come.
Low-cost index investing keeps emotions out of your investment strategy
Robo-advisors typically do not trade individual stocks or offer specific stock trading advice. Rather, they tend to invest in low-cost ETFs, which provide instant diversification, as well as tax efficiency.
Most robo-advisors adhere to a buy-and-hold, passive investing strategy. They do not pick stocks or try to time the market. Instead, robo-advisors are charged with figuring out the exposure investors should have to stocks, bonds, international investments, and other asset classes, and use each individual investor's age, expected retirement date, and risk profile to come up with an asset allocation and stick to it, regardless of day-to-day market movements.
Account rebalancing keeps your investment goals on track
Although robo-advisors do not react to stock movements, they do track the markets on a daily basis. If market swings move clients' portfolios out of balance with respect to their recommended asset allocation, they rebalance accordingly, while being mindful of creating taxable events or incurring trading fees.
As a result, investors with these platforms do not have to get on the phone with their money manager if one company is driving an entire sector down. They can rest assured that, provided that they are in a properly diversified portfolio, they will be able to stay the course and ride out any market downturn.
Investors who need estate planning or have complex investment portfolios may want the hand-holding that comes with a financial advisor, or simply find a good lawyer and then choose low-cost index funds or ETFs on their own. For many investors, however, robo-advisors offer a way to grow their investment nest egg without getting hit with high costs and fees.
Title Name: How Much Cash Should Investors Keep in Their Portfolios?
How Much Cash Should Investors Keep in Their Portfolios?
Determining whether you have too much or too little cash in your portfolio is an important part of your overall investment strategy. It might even teach you a little something about the role your emotions might play in the way you make investing decisions.
The three steps below may help you arrive at a cash allocation that works for your risk tolerance, goals and time horizon:
Distinguish between household cash and portfolio cash.

First things first: Don't mix up (or lump together) portfolio cash and the cash you hold in bank accounts as an emergency fund. "There's a huge difference between someone who invests their portfolio 50% in cash, versus someone who has a $50,000 401(k) and a $50,000 savings account," says Michael Kitces, partner and director of planning research at Columbia, Maryland-based Pinnacle Advisory Group. Although that second investor may have 50% of their assets in cash, their 401(k) is fully invested, he explains.

Although there isn't a lot of benefit to having a large cash holding in your portfolio, Kitces says there are a lot of good reasons to have a "relatively sizable household cash holding." The rule of thumb is to have at least six months' worth of living expenses saved up in an emergency fund, which could be a large percentage of net worth for investors in the accumulation stage.

What percentage of your portfolio holdings is cash?

If you completed the exercise in step one and determined you have enough emergency savings, it's time to determine what proportion of your investable assets is in cash. In industry speak, having too much cash in a brokerage account is called "cash drag," simply because that cash doesn't produce any yield.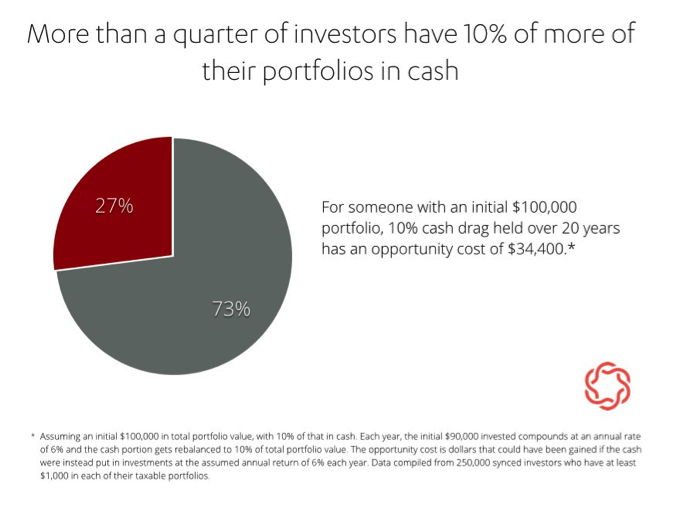 A quick look at the asset allocation of your brokerage accounts will give you the answer. If you have multiple brokerage accounts with different brokerages, you'll need to do some math or sync your accounts with a portfolio tracking app, such as SigFig, which will do the math for you.
As of March 2015, 27% of investors who track their portfolios with SigFig hold 10% or more of their portfolios in cash. Is 10 percent too high? What percentage is ideal? No single answer fits everyone's circumstances, but moving on to step three may help you figure it out.
The million-dollar question: Why?

You'll have to dig deep into your emotions with this one. Why is that money in cash? Did you panic and sell a certain stock or fund during the market crash and leave that money sitting on the sidelines? Are you afraid the markets have peaked? Do you have a compelling reason for keeping a portion of your assets in cash, such as being ready to jump into the next investment opportunity?
When the answer involves an investor's emotions, chances are that the cash allocation may be too large.
"I look at cash in a portfolio as a measure of an investor's emotional level," says Barry L. Ritholtz, chairman and chief investment officer of Ritholtz Wealth Management. "It's a sign of fear and an indication of emotional concern."
Granted, Ritholtz doesn't often meet with investors concerned that their 5% cash holding is too large. Usually, it's people who have 10%, 20% or 30% of their portfolios in cash, he says. "If you want less money exposed to stocks, then set up six months worth of expenses in a savings account and occasionally put money in there to keep up with inflation," he says. Keeping cash because you're afraid of the future or are trying to time the market, however, is a mistake. "History tells us that the average investor is bad at timing the market, and professionals aren't better," Ritholtz says.
One solution to cash drag is to divide that extra cash into six or 12 equal parts and deploy the money monthly, Ritholtz says. "That's just one way to overcome those emotions. And that's really what this is about. Keep your emotions in check," he says.
1Investment products and services are offered independently through SigFig Wealth Management, LLC, an SEC registered investment advisor. Investment accounts are custodied at brokerages that are members of FINRA/SIPC. SigFig and Cambridge Savings Bank are not affiliated. Products and services made available through SigFig are not insured by the FDIC or any other agency of the United States and are not deposits or obligations of nor guaranteed or insured by any bank or bank affiliate. These products are subject to investment risk, including the possible loss of the principal amount invested.
SigFig Wealth Management, LLC investment recommendations rely on historical data. Historical performance is not a guarantee of future returns. 
SigFig Wealth Management, LLC is an SEC registered investment advisor. © 2017 SigFig Wealth Management. All Rights Reserved.