Online & Mobile Banking Services
We understand that the way you bank with us is evolving. That's why we encourage you to access your accounts through online banking or through our app. You get the added convenience of being able to bank anytime, anywhere, with the ease of knowing that your transactions are secure.
Bill Pay
Bill Pay is an easy way to pay all your bills in one place and rest easy knowing that your bills will be paid on time. Log into your Online Banking account and enroll through the Bill Pay tab.
Don't get another late payment fee - receive email notifications on bills, set up recurring payments or schedule a payment for a future date. You can even make expedited payments if needed.
Monitor your budget and easily keep track of payment history
CARD CONTROL
Have greater control over your debit card(s) with Card Control.
Enables you to control your debit card(s) using Online Banking or Mobile Banking.
Turn your card on and off
Block certain types of merchants, transactions, and even set a spending limit.
Learn More about Card Control
Popmoney
Send, request, and receive money with a click of a button, to just about anyone with an email or mobile number. Sign into your Online Banking account and enroll through the Transfers tab. 
Transfer money to friends and family outside your CSB network; all you need to know is their email address or mobile phone number
Accessible through Online Banking and mobile devices
Schedule ahead of time and set-up recurring payments
To learn more about Popmoney see our Mobile Banking FAQs
Transfers1
Save the hassle of writing a check or taking money out of the ATM. With electronic transfers, you can quickly zip money to another CSB account, just like that. Log into your Online Banking account and complete set-up through the Transfers tab.
Transfer money, internally or externally
Automatic, recurring transfer set-up
Convenient and hassle-free - no checks needed for payment
 To learn more about personal online banking, visit us at cambridgesavings.com/personalbanking.
If you want to ENROLL in Online Banking, it's simple, and our Contact Center is here to help. They can be reached at 888.418.5626.
Download our Mobile App today.
Handling your finances online gives you a fast, convenient way to get back more time in your day. Our Online Banking platform is designed with utility, convenience and security in mind, so that you can feel confident and safe using our service to manage your business finances.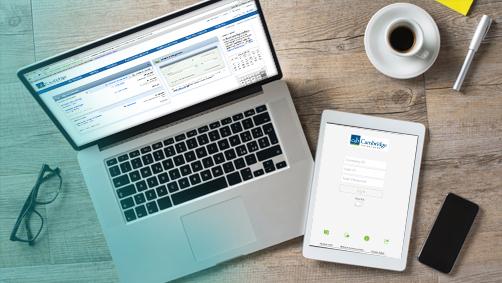 Online Banking Benefits2
Customizable services include: domestic and international wire transfers, ACH origination, bill payments, and account transfers. Monitor account balances, make payments, and manage funds with an intuitive dashboard with comprehensive reporting capabilities.
Enhanced security options
Actively manage finances with customizable alerts and notifications
Access account transactions and check images for up to one year
Access Electronic Statements for up to two years