Lisa Rodericks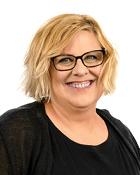 Senior Vice President, Chief Marketing Officer
Making the "Always you." experiences customers have with Cambridge Savings Bank come alive, is Lisa's number one priority.
Before joining us in 2014, she earned her 20 year financial marketing acumen at Bank of America, Fleet and BayBank. More recently at Santander, where she was the Director of Customer Relationship Strategy for the bank's mass affluent segment, and led the development of customer life cycle management programs supporting consumers across all segments. And at Mercatus, a boutique consulting firm, she delivered strategic advisory services and delved deep into consumer decision-making criteria and insights.
Lisa leads the development and implementation of our brand and marketing strategy, advertising, and digital/social delivery. Her focus includes creating strategic roadmaps for growing and cultivating long-term client relationships across our retail, small business, and commercial business lines. Lisa serves on the board of Cambridge Family & Children's Service and the WGBH Corporate Executive Council.